Anesthesiology Interest Group (AIG)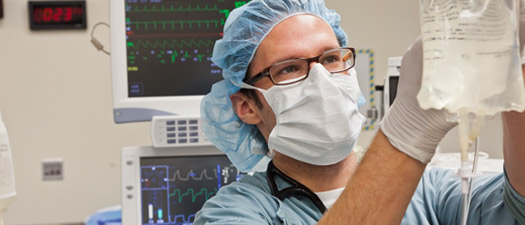 The Anesthesiology Interest Group (AIG) was established to provide medical students who are interested in pursuing the exciting field of anesthesiology as a career with the knowledge, education and understanding about the duties and skill sets needed for the specialty. AIG is dedicated to help interested medical students successfully enter the field of anesthesiology and explore different subspecialties within the field.
The UCI Anesthesiology Interest Group will:
Educate medical students about the field of anesthesiology through lectures, discussions, annual meetings, Q&A sessions, research experiences, events and activities
Provide medical students with hands-on clinical skills workshops
Educate medical students about the residency application process
Promote interactions between medical students and anesthesiology residents and faculty
Workshops
Throughout an academic year, AIG hosts informative and interactive workshops for medical students. Workshops can include:
Clinical Skills (airway management and intubation, vascular access, OR code, basic and advanced airway, TEE simulation, advance line placement)
Point-of-Care Ultrasound
Perioperative Simulation
Post-MATCH and Residency Interview Advising
Anesthesiology Rotations Preparedness 101
Introduction to Anesthesiology Subspecialties
"Real Deal" Anesthesia Talk
Anesthesiology Residency Program Director Meet and Greet
Symposiums
The UCI AIG hosts a symposium bi-annually for medical students to experience the interdisciplinary nature of the field of anesthesiology. The event is organized to provide hands-on workshops, informative lectures and information about residency and also a unique opportunity for medical students from around the country to network with future colleagues, current residents, attending anesthesiologists and residency program directors.
The one-day symposium includes:
A variety of lectures followed with Q&A panels
Hands-on workshops and simulation sessions (intubation, line placement, ultrasound, codes)
A day in a life of an anesthesiology resident
Residency Fair with a wide range of California Anesthesiology Residency Programs
Some themes featured for the symposium were:
"Anesthesia: What's Next in Tech?"
"Anesthesiology Residency Life"
"Leadership in Anesthesiology"
"Understanding the Future of Anesthesiology"
"Discovering Anesthesia Subspecialties"
Mentoring
AIG has an ongoing mentoring program where medical students are paired with an anesthesiologist to explore the aspects of general anesthesia and an in-depth exploration of different subspecialists of cardiac, obstetrics, chronic pain and regional and acute anesthesiology. Mentors will increase the awareness of the anesthesiology clinical practice and encourage medical students to explore different career opportunities within the field of anesthesiology.
Resources
Anesthesiology Societies
Education
Anesthesia Research
Contact Information
If you would like more information about AIG and future scheduled events, contact:
Co-President
Jia Tang, MS
Email: jiat3@hs.uci.edu
Co-President
Daniel Kim, MS
Email: kimd12@hs.uci.edu
Chair, Communications
Linsey Wilson, MS
Email: wilsonlm@hs.uci.edu
Chair, Finance
Victor Lee, MS
Director, MS3/MS4 Events
Michael Lobasso, MS
Director, MS1/MS2 Events
Ted Nguyen, MS
Faculty Advisor
Assistant Dean, Student Affairs
Director, Medical Student Clerkship Rotations
Kyle Paredes, MD, MBA