Chief Residents' Welcome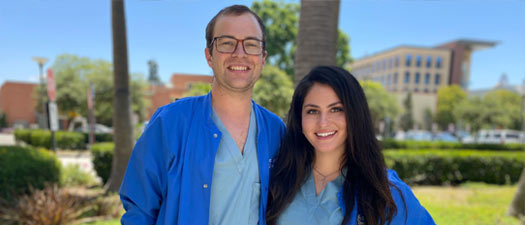 Welcome to the UCI Department of Anesthesiology & Perioperative Care Residency Program! Our Department offers exceptional training and state of the art facilities for residents to become skilled anesthesiologists with a wide breadth of experience. We are excited that you are considering UCI for residency and would like to share what makes UCI an excellent, unique program.
The UCI Medical Center is located in Orange, California and is the only adult Level I trauma center in Orange County. As a major referral center for a variety of specialties where case volume continues to grow annually, training at UCI guarantees outstanding clinical training that prepares residents to become confident anesthesiologists. Our residents have the opportunity to learn at various healthcare systems in Southern California, such as Kaiser Permanente Los Angeles Medical Center, Children's Hospital of Los Angeles, CHOC Children's, VA Long Beach Healthcare System and Long Beach Medical Center. Rotating at various healthcare systems complements training by exposing our residents to different anesthesia practices and allows for residents to strengthen their professional networks. Our graduates have great clinical reputations and consistently secure competitive fellowships, as well as academic and private practice attending positions.
We are a categorical residency program with an integrated clinical base intern year that is tailored to maximize a foundation of knowledge that is applicable to the subsequent training years in anesthesiology. Clinical base year rotations include general surgery, internal medicine, emergency medicine, high-risk obstetrics, various ICU rotations, Point-of-Care Ultrasound (POCUS), preoperative clinic and electives. The last rotation of the year is reserved for an introductory month in anesthesiology to ensure a smooth transition into clinical anesthesia. All resident classes have a one day per month of protected didactic sessions with lectures, simulations, POCUS sessions and guest speakers catered to their level of training. Our residents are well prepared for the board examinations and score highly on the annual In-Training Examinations.
The faculty at UCI are truly dedicated to our growth as physicians and our well-being. Each one of them are exceptionally approachable and collaborative, fostering a collegial environment that encourages inquiry and teamwork. Many of our alumni continue to have lasting friendships with our faculty after graduation. Our residents are well-rounded and prepared for a successful career due to our committed faculty, strong clinical training and innovative didactics program.
We look forward to welcoming you to the UCI family!
Cheers,
Morten Neve, MD and Claudia Hammi, DO
Chief Residents 2020-2021