News
Two Anesthesiology Faculty Appointed Leadership Positions to UCI Graduate Medical Education (GME) Team
July 1, 2014
Congratulations to Dr. Danielle Perret and Dr. Suzanne Strom on their new leadership roles to the UC Irvine Graduate Medical Education (GME) team! The Office of Graduate Medical Education provides institutional oversight and support for all residency and fellowship programs and their trainees.
Dr. Danielle Perret has been reappointed as the Associate Dean for GME. Dr. Perret will be charged with providing institutional oversight of our 52 ACGME-accredited programs. She will provide training and support to program directors and ensure program quality and compliance with ACGME standards.
Dr. Danielle Perret's experience in medical education has prepared her well of this role. She has served as Program Director for Pain Medicine since 2008 and Associate Program Director for PM&R since 2012. She also served as Assistant Dean for Resident Affairs/CLER from 2012-2014. During this time, she was involved in institutional oversight for quality and safety education for UC Irvine's 600+ housestaff. She chairs the UCI Housestaff Wellness Committee and is a member of the School of Medicine's Academy for Innovation in Medical Education. She is an active representative of the AAMC/Council of Faculties and Academic Societies and serves on the Board of Trustees of the Association of Academic Physiatrists. She has received a Picker Institute/Gold Foundation Award for graduate medical education curriculum development in the humanities and a UCI GME Outstanding Service Award.
With Dr. Perret's promotion, the GME Office are thrilled to add Dr. Suzanne Strom to the GME team as the Assistant Dean for CLER (Clinical Learning Environment Review) and Designated Safety Officer (DSO). Dr. Strom will oversee the institution's preparation for the new ACGME CLER site visits and will further develop the institution's GME activities in patient safety and quality improvement.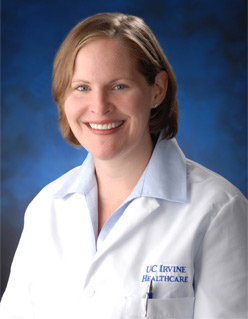 Dr. Suzanne Strom is a board certified Anesthesiologist and Pediatric Anesthesiologist in the Department of Anesthesiology and Perioperative Care at UC Irvine. Dr. Strom is an Associate Clinical Professor and Residency Program Director for both the Anesthesiology Residency and Combined Pediatrics-Anesthesiology Residency programs, a position she has held for the past three years. Prior to this position, she was the Associate Program Director for Curriculum in Anesthesiology. Dr. Strom has also played a vital role in the development and implementation of simulation curricula at the UC Irvine Medical Education Simulation Center. Her leadership positions in the center included Director of Medical Student Simulation and Associate Director.
With Drs. Perret and Strom in these leadership roles, the GME will continue to soar in in terms of its accreditation success and ability to serve program directors, coordinators, faculty, and residents in the years to come.