Center for Perioperative Care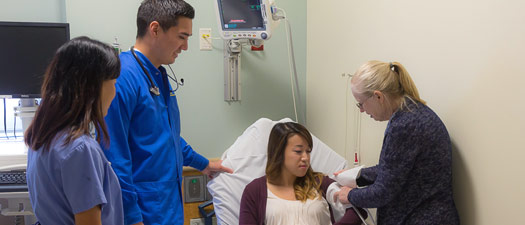 Want to speak to an Anesthesiologist? Our dedicated anesthesia team is available for questions. Our anesthesia team will answer your call right away. On occasion, our team may be involved in patient care and is not able to answer the phone, in which case please leave a message with a call back number and we will return your call within 48 hours.
Phone: 714-456-2274
Monday to Friday (excluding holidays)
9 a.m. to 4 p.m.
This is for non-emergency questions only. If this is an emergency, please call 911.
Core Mission of The Center of Perioperative Care
The core mission of the Center for Perioperative Care is to prepare patients for surgery. This includes both medical preparation to minimize risk and complications of surgery and educational preparation to answer patient questions and minimize anxiety and stress before procedures.
Our specific goals are:
To ensure that patients brought to the operating room are optimized for surgery.
To determine the need for additional tests that need to be done before the day of surgery.
To consult with and educate the patient regarding special concerns and the possible anesthetic choices for the surgery.
To alert the operating room in advance of particular patient problems which may require special handling or equipment.
To be a resource to surgical services for consultation when uncertain about particular patients and preoperative needs.
Minimizes surgical delays and cancellations due to patient unpreparedness.
To provide the best anesthesia experience possible.
Specialized Service
The Center for Perioperative Care is a specialized service of the Department of Anesthesiology & Perioperative Care and is designed soley with the above goals in mind. As such, and bearing in mind the clinic provides a consultation service itself, the clinic does not provide routine history and physicals, arrange additional medical consultations, follow up on tests or studies recommended to the consulting services, or actually schedule cases in the OR.
The Center for Perioperative Care is a scheduled clinic; all patients must have an appointment.
Patients who may receive a scheduled phone interview instead of a physician visit in the clinic include:
Patients without significant history (personal or family) of anesthesia-related problems.
Patients without a history of breathing difficulty, obstructive sleep apnea, or airway procedures.
Patients who do not request additional education or consultation regarding anesthesia.
Patients without significant cardiac or pulmonary disease (including pacemakers/AICDs).
Patients without concerns about standard medical care (i.e., refusal of blood products).
Patients who have previously been evaluated by the Center for Perioperative Care and had surgery may not need to be re-examined as long as significant changes in their health have not occurred in the interim.
A patient's primary care physician, cardiologist and pulmonologist (when applicable) are all excellent resources and should be notified of any scheduled procedures.