Areas of Interest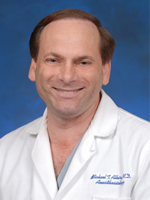 Michael Alkire, MD
Associate Professor In-Residence
Dr. Alkire's first profession was as an Airframe and Powerplant mechanic for Pacific Alaskan airlines in Everett, Washington. However, the August 1981 strike of the professional Air Traffic Controllers Organization (PATCO) and the subsequent firing of 11,345 striking air traffic controllers by President Ronald Reagan crushed the nation's airline industry for nearly a decade and bankrupted a number of regional carriers, including Pacific Alaskan Airlines. Finding himself without a job at a relatively young age, Dr Alkire headed back to school in search of another profession. The parallels between the professionalism found in the aviation industry, where everything is done to keep people safe and alive when flying, directed Dr. Alkire's career search towards the medical profession, where everything is done directly to keep people safe and alive. In pursuit of this goal, Dr. Alkire graduated Summa Cum Laude from the University of Oregon in 1986. He was accepted into the UCLA School of Medicine as an out of state applicant and graduated from UCLA as a member of the class of 1990. He performed his internship, anesthesia residency and early clinical career all at the University of California, Irvine, where he remains an Associate Professor in Residence.
Dr. Alkire's research work searches to understand the mechanisms by which anesthetics suppress memory, consciousness and pain processing. He has been a pioneer in using anesthetic agents as a research tool to probe the workings of the human mind. He uses neuroimaging technologies such as positron emission tomography (PET), functional magnetic resonance imaging (fMRI) and high density electroencephalography (EEG), as well as small animal experimentation, to identify and experimentally manipulate various key sites of anesthetic action in the brain.
Dr. Alkire was the first to publish a PET study investigating the mechanisms of anesthetic action in human volunteers back in 1995 (Anesthesiology, 82(2):393-403, February 1995; discussion 27A.). The editorial highlight by Michael M. Todd, MD: p. 27A, acclaimed the manuscript as a "major achievement" in anesthesia research.
Early in his career, Dr. Alkire was the recipient of a Foundation for Anesthesia Education and Research (FAER) grant. This FAER funding led directly to further NIH funding designed to investigate "The Role of the Amygdala in Anesthetic-induced Amnesia." Working at the Center for the Neurobiology of Learning and Memory (CNLM) at the University of California, Irvine, Dr. Alkire discovered in animals that the amygdala plays a key role in causing the amnesia associated with a number of anesthetic agents. Currently, this work is being translated to the human condition through additional NIH funding. The animal work suggests that certain anesthetics might have therapeutic potential in the treatment of emotional memory disorders, such as those characteristic of post traumatic stress disorder (PTSD).
Indeed, low doses of anesthetics can be used as tools for the study of many cognitive processes ranging from the mechanisms underlying emotional memory formation to the mechanisms underlying the neurobiology of consciousness itself. Understanding the nature of human emotional memory processing is at the heart of Dr. Alkire's long standing collaborations with Professor Larry Cahill, Ph.D., a leading expert in human emotional memory mechanisms and most recently a pioneer in the neurobiology of sex-difference research.
The concept of using anesthesia as a tool to study consciousness and the nature of consciousness itself was the focus of a recent review published in the journal Science by Dr. Alkire and his collaborators Anthony Hudetz, DBM, PhD (Medical college of Wisconsin) and Giulio Tononi, MD, PhD (University of Wisconsin). Using brain imaging as a tool to understand anesthetic-action in the brain has led to a number of insights regarding the nature of anesthetic effects on consciousness. Dr. Alkire discovered that intra-thalamic microinjections of nicotine into animals will temporarily block the unconsciousness producing aspect of anesthesia and allow an animal to awaken and move around within a chamber filled with anesthetic. This work won the "Best of Meeting" abstract award competition at the 2007 International Anesthesia Research Society (IARS) Meeting. A follow-up study showed a similar result (the reversal of anesthetic-induced unconsciousness) when voltage-gated potassium channels in the thalamus were blocked with a specific Kv1.2 channel blocking antibody. This work was also recognized by being selected as one of the "Best of Meeting" abstracts at the American Society of Anesthesiologist's (ASA) annual meeting in 2008.
Human neuroimaging studies investigating anesthetic-induced changes in consciousness have been performed in collaboration with Harry Scheinin's group at the Turku PET centre in Turku, Finland. Pattern analyses of the Turku PET data performed at Irvine revealed insights into the nature of awakening from anesthesia and these findings were also recognized by being selected as one of the "Best of Meeting" abstracts at the ASA annual meeting in 2010.
Most recently, Dr. Alkire along with Hiroki Hayama, PhD reported fMRI findings regarding where in the human brain the neural correlates for the amnesic effect of dexmedetomidine might be located (i.e., the hippocampus), and this work too was selected as one of the "Best of Meeting" abstracts for the ASA annual meeting in 2011.
Dr. Alkire's work has achieved an international reputation for innovation and creativity, as he was recently honored to give the prestigious Torsten Gordh memorial lecture regarding the "State-of-the-Art" in anesthesia and consciousness research at the Annual Meeting for the Swedish Society of Anesthesia and Intensive Care Medicine in Kalmar, Sweden, 2011.