Areas of Interest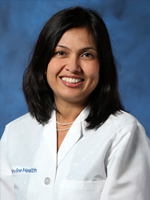 Rakhi Dayal, MD
Associate Clinical Professor
Dr. Rakhi Dayal's research interests focuses in interventional pain procedures, neuromodulation, safe use of opioid medications and non-pharmacological treatment modalities in pain medicine.
Dr. Dayal is also interested in public health, specifically in the area of pain management and resources for children and adolescents. She has worked on projects evaluating the prescribing practices in the pediatric population and on pain related issues and resources available at schools. The goal is to collaborate and increase awareness of non-opioid treatment options in a specific population and to empower the general public with robust tools to recognize, support and manage physical and psychological pain.
Additional areas of interests include headache, role of acupuncture and functional improvement with interventions.