Areas of Interest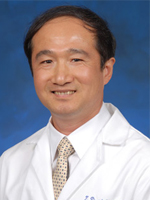 Z. David Luo, MD, PhD
Professor
Dr. Luo's research interests focus on molecular mechanisms of chronic pain. Being supported by research funding from NIH, the Roman Reed Spinal Cord Injury Research Fund of California, and the Christopher Reeve Foundation, Dr. Luo and his team are studying how chronic pain inducing conditions, such as peripheral nerve injury, bone cancer and spinal cord injury, induce changes in gene expression in sensory pathways that lead to changes in pain perception.
Two approaches are utilized in Dr. Luo's research. First, they use gene chip analysis to compare gene expression profiles between control and experimental tissue samples, taken from pathological conditions associated with abnormal sensations, to identify genes that may be the molecular determinants of specific nociceptive states and serve as targets for the development of more specific and safer analgesics.
Their second approach is to study how altered target gene expression contributes to spinal sensitization, a central mechanism of abnormal sensations. Briefly, they use behavioral pharmacology, cellular and molecular biology, electrophysiology and immunohistochemistry techniques to study how these genes are regulated under pain-inducing conditions, and how these changes contribute to abnormal sensation development and maintenance.
Dr. Luo's research accomplishments are well recognized in the pain research field. Dr. Luo has been invited to present his research findings in numerous international and national meetings, and has provided consultations to and established collaborations with investigators within UCI and from other institutions around the world, and has been serving in the editorial boards or as associate editor for scientific journals related to Pain and Analgesia. Additionally, Dr. Luo has published "Pain Research: Methods and Protocols," a cutting-edge collection of diverse readily reproducible techniques for dissecting the molecular mechanisms of pain transduction. These methods employ a variety of multidisciplinary approaches ranging from experimental models and single neutron selection to in vitro single-cell mRNA amplification.