Areas of Interest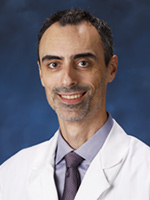 Joseph B. Rinehart, MD
Associate Clinical Professor
Vice Chair, Research
Dr. Rinehart's primary research interest is in biomedical technology and monitoring, and looking at new ways that advances in computing power can be translated into advances in patient safety and care.
Since mid-2010 Dr. Rinehart has been working on intelligent monitoring algorithms that can independently track patient status and make recommendations as to appropriate interventions. The ultimate goal of software like this is the integration of all the various monitors and devices in the operating room into a single system that can provide another layer of patient safety. As that goal is still a long way off, and as a first step in that direction, current work involves gathering and analyzing data from the existing monitoring systems in real-time and looking at ways to provide that information to clinicians in a readily understood way.
Additional interest areas include real-time waveform analysis, in-silico cardiovascular simulation, and closed-loop (automated) systems for clinical management.