Areas of Interest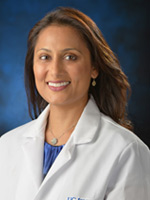 Shalini Shah, MD
Associate Clinical Professor
Vice Chair, Pain Management
Director, UCI Health Pain Services
Dr. Shalini Shah's research interest focuses on the study of pediatric pain medicine, specifically in pediatric migraine pathology and innovative treatment outcomes. Dr. Shah was awarded the American Society of Regional Anesthesia and Pain Medicine (ASRA) Chronic Pain Research Grant for the study of the "Effectiveness of Onabotulinumtoxin A (Botox®) in Pediatric Patients Experiencing Migraines: A Randomized Double Blinded Placebo Crossover Study in the Pediatric Pain Population". This study is the first prospective randomized controlled trial of its kind for the indication of pediatric chronic migraine. The UCI Health Division of Pain Medicine is currently leading the initiative in the identification of novel applications of existing therapeutics for pediatric migraine and is the national referral center for pediatric headache pathology and on-going clinical trials.
The research study on the use of Botox® for pediatric migraines has received widespread national recognition and has been featured on the NBC Nightly News, Time Magazine and the medical talk show "The Doctors".
Dr. Shah's groundbreaking work carries policies and legislative impacts as it fulfills the federal initiative to design and conduct trials in the pediatric pain population within the confines of the Best Pharmaceuticals for Children Act (BPCA) of 2002. The goal of the BPCA Program is to improve pediatric therapeutics through preclinical and clinical drug trials that lead to drug labeling changes. Dr. Shah is highly sought after for her opinions in pain medicine and pediatric pain medicine. She currently serves as a co-investigator on many collaborative NIH funded pain studies throughout the UC system. Dr. Shah is currently the chair of the Committee on Pain Medicine for the California Society of Anesthesiologists.