Medical Education Simulation Fellowship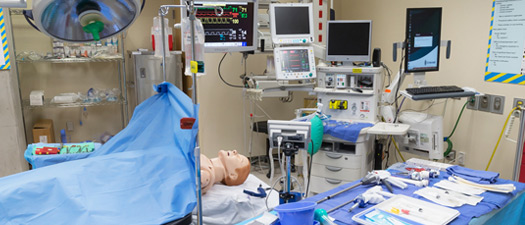 The Medical Education Simulation Fellowship provides a comprehensive one-year non-ACGME accredited program to become leaders in simulation healthcare education.
Program Overview and Curriculum
The fellowship program will provide fellows the experience in all aspects of medical simulation, which includes education, program operations, research and management. Fellows will have the opportunity to develop, implement, manage and assess innovative simulation curriculums to educate healthcare professionals, residents, medical students, nursing students, firefighters, paramedics and individuals from the general public. This includes the UCI graduate medical education (GME) programs and UCI Health clinical and community providers. Some of the curriculum created will be integrated into the core curriculum of UCI School of Medicine.
Simulation education fellows will gain knowledge and experience to:
Establish and lead a multidisciplinary simulation center
Operate a simulation center
Operate simulations for graduate and undergraduate medical education, Continuing Medical Education (CME) and healthcare providers
Design simulation curricula and develop scenarios
Use different advanced simulation technologies and tools
Learn advanced debriefing skills and contingency planning
Advance medical simulation in research
The fellow will have the opportunity for academic enrichment by attending didactics sessions, grand rounds and providing lectures and teaching residents and undergraduate students. Fellows are also encouraged to attend and present at supported opportunities at simulation related society meetings and attend the International Meeting on Simulation in Healthcare (IMSH).
The core program is centered clinically and educationally at the UCI Anesthesiology & Perioperative Care and the UCI Medical Education Simulation Center. The UCI Medical Education Center located on Irvine campus provides simulation-based education and training for thousands of healthcare students and providers each year and is equipped with a simulated operating room and other simulated clinical rooms. The fellow will also have the opportunity to interact with other simulation education fellows at UCI and/or within the UC system.
Simulation education fellows will also operate and educate simulation sessions at the UCI Perioperative Simulation Center, a dedicated educational anesthesiology simulation location at UCI Medical Center. This center provides educational sessions on transesophageal echocardiography simulations, procedural simulation with a variety of task trainers.
Clinical Experience
The simulation education fellow will work part time as a clinical instructor with an appointment with UCI Anesthesiology & Perioperative Care, thereby self-funding their fellowship.
Research Opportunities
The simulation education fellow will have the opportunity and support to become involved in various ongoing simulation-related research projects that involve grant writing, IRBs, CME applications and manuscripts. Through the course of the training, fellows are expected to submit several scenarios and research projects for publication. The fellow will also have the opportunity to present their research at the department grand rounds.
Fellowship Graduates
2018-2019
Mohammad Alkofi, MD
International Fellow - Kingdom of Saudi Arabia
2015-2016
Mitra Khani, MD
International Fellow - Iran
2014-2015
Anne Beissel, MD
International Fellow - France
2011-2012
Corey Nelson, MD
How to apply
Both domestic and international applicants are welcome to apply.
Submit the following required documents to the Fellowship Program Coordinator, Email: anesthfellowship@hs.uci.edu
Curriculum Vitae (CV)
Three letters of recommendation
USMLE Scores
Personal statement expressing your interest in medical simulation
Required documents will be closely reviewed and qualified applicants will be invited to interview.
International Applicants
Interested international applicants are welcome to apply and have a different set of requirements
Special Requirements
Applicants must have completed a residency program in the United States and all three steps of USMLE. Applicants must also be able to obtain a California medical license prior to the start of the fellowship.
For other simulation fellowship opportunities and for those who do not meet the special requirements, contact medsim@hs.uci.edu for more information.
Contact Information
For questions about the fellowship program, contact the Fellowship Coordinator.
Rogelio (Roger) Hernandez
Fellowship Coordinator
anesthfellowship@hs.uci.edu
Cameron Ricks, MD
Director, Medical Education Simulation Center
Program Director
UCI Medical Education Simulation Center

Located on the UCI campus is a $40 million, 65,000-square-foot state-of-the-art medical simulation center that provides telemedicine and simulation-based educational programs and CME courses for thousands of healthcare providers in a safe learning environment.